Express yourself in RAW, messy pages, rich with personality, story & emotional content.

Tap into hidden depths and emerge with insight, understanding and truth.

Discover the power of visual journaling to Inspire, renew and transform experience.
RAW Is for you if want a creative practice that:
Deepens your sense of self connection.
Helps you express yourself with greater personal depth, authenticity and meaning.
Allows you to experience and develop more freedom, ease and confidence on the page.
Will also serve as an outlet for self care, transition, recovery and wellbeing.
Is rich and varied and to understand process as something that transcends the page.
Registration is now closed:
In this course you will learn how to:
Begin. Check in with yourself and surrender to vulnerability.
Tend. To your inner and outer landscapes. To create the conditions in which creativity thrives.
Listen. To yourself through free writing & noticing. Discover what's truly on your mind and in your heart & soul.
Play. Loosen up. Explore. Make a mess. Have fun. Flow is no state for the art police.
Scribble. Of course. Scribbles are about to become your best friend.
Building Layered Backgrounds.
Open possibilities by removing control. Create interesting layers. LOTS of them.
Storytelling with imagery.
Letting the image choose you. Integration and Unity. Getting your images into the page.
Letting the subconscious speak.
When the art, makes you. It doesn't have to make sense to anyone. But it will to you.

Sharing your work.
Honouring and Owning. Being seen and heard.
The Format:
Each week, for 4 weeks, Amanda will lead you through her process for expanding self connection creating mixed media pieces which express authenticity and your own unique journey.
☆ Weekly lessons delivered via video with support text and images.
☆ Live call each week where questions can be asked (Optional attendance- these will be recorded for later access).
☆ Online so you can access at your convenience from all around the globe.
☆ Community Facebook group to share, be further inspired and supported.
☆ Bonus (see below)
☆ Lifetime access*
At the end of this course you will have the tools to support your own processes through creative outlets and deeply personal expressions that integrate all of who you are
Bonuses
Amanda's Favourite Supplies + Demo.

Studio in a Box: You don't need a lot of space to have a rewarding creative practice.

Creating Intentional Space: A (not so) mini masterclass in manifesting greatness.

Scribble Studies: The (very complicated) Art of Chaos.
Registration is now closed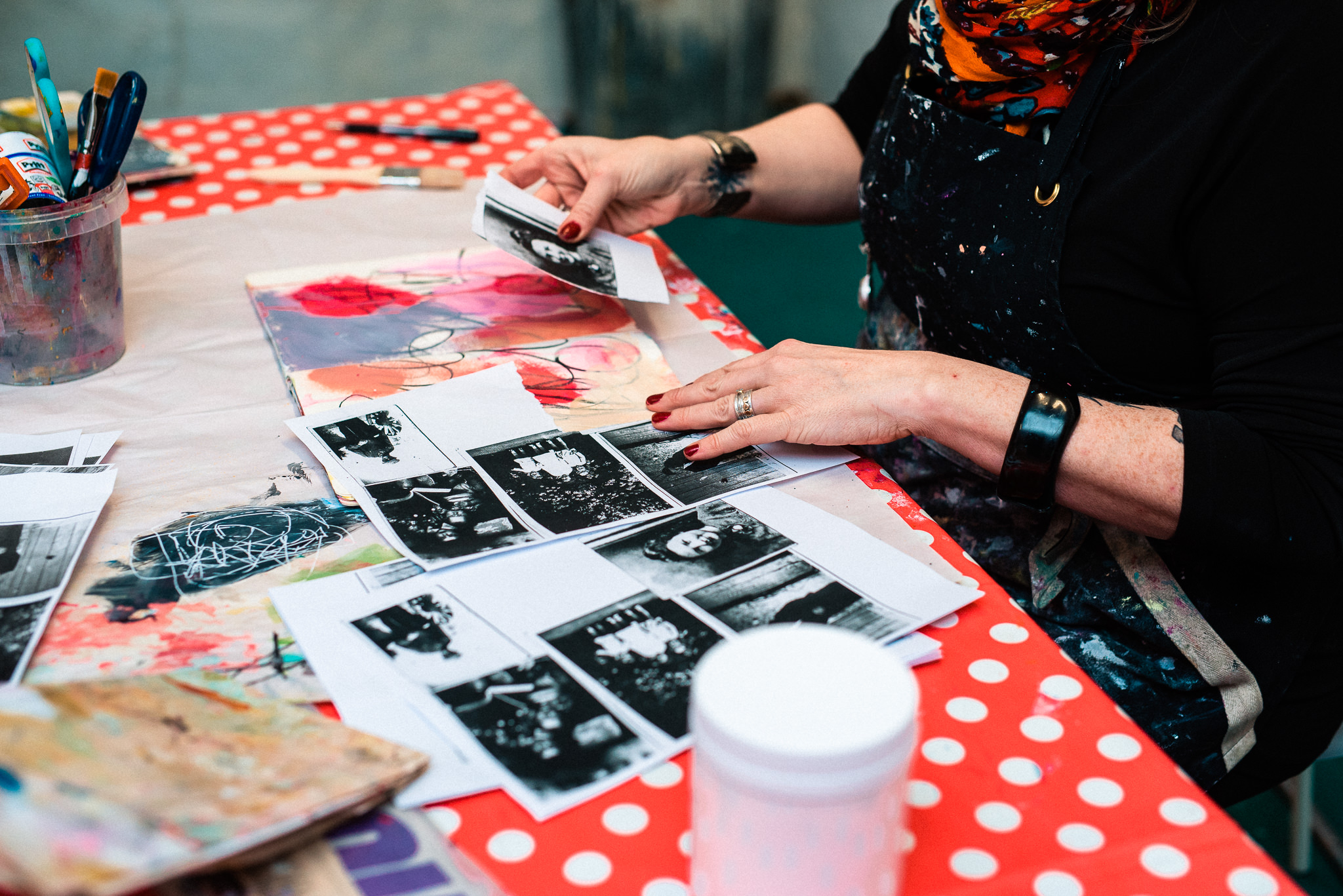 Testimonials
"I got back in touch with my creativity after a long absence. It was also a challenge as a neat freak to be messy! Amanda is so warm and welcoming, open and honest, and encouraging." Siobhan Kennedy
"Through Amanda I learned how I could be open and authentic and let the creativity flow freely on the pages before me. It was cathartic. I'm hooked!" Gayle Daly
"I haven't stopped creating since. It has changed the way I approach my life and given me a place to go when my head is too full to contain all the clutter." Kelly Marie Roberts aka Birdwoman
"An inspirational workshop. Such a memorable experience which reinforced the message for self care and self discovery. " Kate Bedell
"I got so much out of it! I had grown such creative complex but Amanda burst the heavy bubble" Virg Laveau
"Amanda is honest, authentic, and generous facilitator and walks the path full heartedly every step of the way. It's an uplifting and magical experience to be in Amanda's presence, learn and create with her. If you ever have a chance to experience it, go for it. Worth every minute and priceless in return. Thank you." Kamila Lukaszewicz of Alchemy Holistic Therapy

"What a great way to stretch. I can see a multitude of ways to incorporate these ideas beyond this class. Thanks for your offering and for taking us to a new place in our journals." Kate Robertson
"Amanda's RAW freestyle, almost subconscious creativity and self-expression, was really challenging for me on many levels, taking me out of my comfort zone and out of control. It was a dive into my fears and vulnerability. Amanda took us for an emotional journey and confirmed belief that creative process may be deeply healing. I learned a lo. Simply amazing - and so truly beautiful." Finnabair.
Registration is now closed
FAQ
Who can sign up for this course?
All creative souls, that is everyone!! Whether beginner or more experience,

I've never done any art or anything like this before, can I still sign up?
Perfect, what a wonderful way to start.
What sort of supplies do I need to do this course?
There is a supply list HERE, however they are just suggestions- for many of the lessons you will be able to use what you have at hand. There is usually no need to go out and buy more.
Internet connection- you will need enough to be able to watch the videos and participate.

I'm not on Facebook, can I still do the class?
You don't need to be on Facebook to do the class, you can just work from the classroom if you like. I resisted signing up for Facebook for a long time and I am so glad that I finally did- the benefits of being in community with so many like minded people who are willing to share far out weighs any reservations I had. If you are on facebook and you join the group, we will all benefit from the shared experiences, lessons and inspirations, including me (I can't wait to be inspired by you all). It is totally your choice how you want to do this workshop.

What if I can't make the live calls?
The live calls are optional and will be recorded so even if you can't attend them live you can catch up with them at your leisure.

Can I share the class with others?
We would absolutely love it if you told others about this workshop, however Amanda is sharing heartwork here and months of work on this project and would really appreciate it if you didn't share the actual classes with anyone who hasn't signed up for them. It is both good Karma and good manners :)

Can I share what I do in the course?
Absolutely, of course, we would love a mention (as an honouring of the teacher/master who inspired you) and a link back and there is a button you can pop up on your blog if you would like (I would be so grateful). & we would so love to see what you create in the Facebook group.

How long will RAW go for ?
RAW runs for 4 weeks with lifetime access*. 5th of November until the 30th of November
Access to the classroom and content is lifetime.

How long will I have access to the workshop?
* You will have access to lifetime access to the classroom for as long as the classroom stays online (by which I mean that access will be ongoing for years, unforeseen circumstance aside, for as long as this site can be maintained) The Facebook group will stay open so that the community there can continue to inspire each other and share knowledge :)
Once I sign up for the course can I change my mind?
Sorry, but all sales are final due to the digital nature of this workshop- once you have signed up there are no refunds for this course.